Dear Supporters, and Praying Partners, December 2018

Merry Christmas, and Happy New Year! We are so thankful for this joyful season! It has given us time to reflect and be thankful for all God has done through this year. He has protected us in so many ways, and I'm sure there are many more times of protection which we are not even aware of. We have taken some time to just be still and seek God's will.

God has continued to lead us, and we are sure that His will for us is still in Cameroon. With the danger and unrest in the English areas of Cameroon, we will be settling into a French region until the Lord allows us to return to Buea and continue the work there. We are still praying for God to show us a specific place He wants us to go to. With this move we will need to learn French. So for the next 6 months I (Caleb) will be focusing on learning as much French as I can. I will be doing this through some self-taught courses as well as online tutoring. We had prayed about and considered language school, but the cost and length of schooling was too much. Our desire is to get back to Cameroon as soon as we can. If you have further questions, please call me, and I will be glad to talk with you about it.

We will be staying in the Longview, TX area, but will be available to travel out for meetings. If you have not had us come and report about the work in Cameroon, we would love to do so. Please let me know if there is a date between February and June that works best in your schedule and we will look forward to coming.

The church in Cameroon continues to remain faithful. They had 14 in their Christmas service, which indicates that most of our members have returned to Buea. They are continuing to invite others, and have been able to pass out a few Bibles in the last couple of months. We continue to pray for them, and trust God for continued protection, as there is still fighting in many areas of Buea. We have made a second payment on the building this month, and are working on getting a roof put on the current structure in order to allow the church to begin meeting there. If you would like to give toward the roofing project, please designate it on your check as #1459 Benson Church Roof. Estimated roof cost would be between $500 and $1,000. Please continue to pray for the people to remain faithful and others to come to Christ.

Pray for our family as we focus on French, school, and instrument lessons to better serve the people of Cameroon. Family Christmas picture available at bensons2cameroon.com.

Thank You for your prayers and financial support,

The Benson Family

Caleb Benson ~ Missionary to Cameroon,

Please send support to BIMI, PO Box 9, Harrison, TN 37341, (423)344-5050; Memo: Benson Family #1459

To get a printable version of this Prayer Letter click on the following link.

https://gallery.mailchimp.com/46bc896ff1498892e8987d0bf/files/23c8fc10-ddef-4f68-96cf-a3576509546e/Prayer_Letter_Dec18.pdf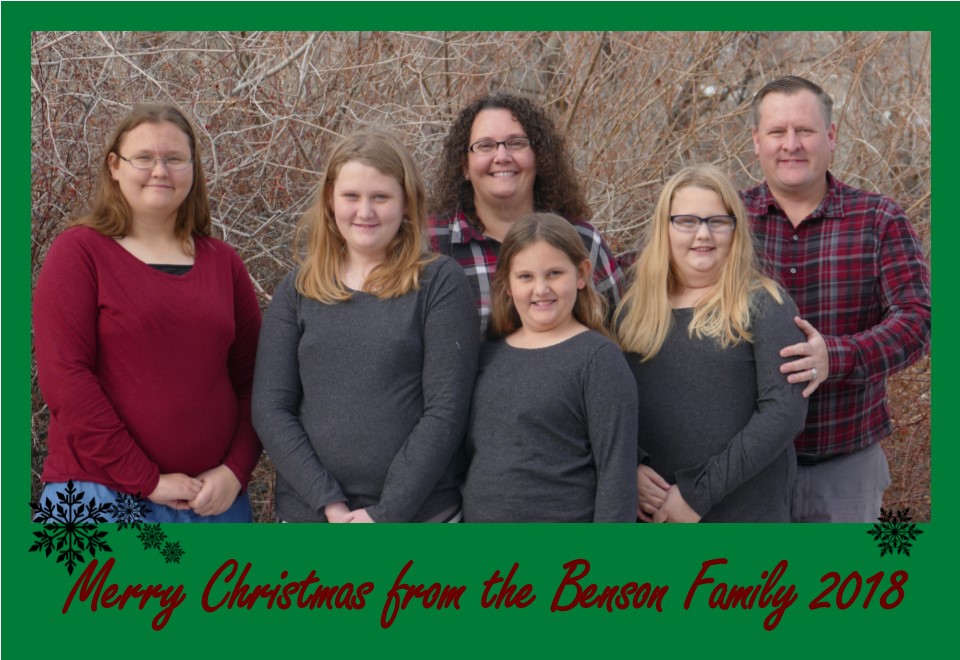 Building Fund!
Current Balance: $15,500
Balance needed: $9,500
Please put "#1459 Building Fund" in the memo line of any donations to be used for the purchase of the land.

Most Recent Prayer Letter